I'm Alth Aaiaa and I welcome you to this "guide" to the Strrrange Apparatus! Actually, it's morrre like a place to post and comparrre results. Please feel frrree to post your rrresults here or at the apprrropriate section. I hope to one day help uncover patterrrns to help people get the rrresults they want.
Before we starrrt, a friendly rrreminder to always set your Doctor passworrrds prior to using the Strrrange Apparatus!
Generate a password here
or
here
.
More information {places from which I've gotten results}:
FFXIclopedia entry for Strange Apparatus
An Allakhazam Guide to the Strange Apparatus
Strange Apparatus topic at Killing Ifrit
Alla's SA Quest page
Code 00: Dangruf Wadi
Code 01: Gusgen Mines
Code 02: Crawlers' Nest
Code 03: Ordelle's Caves
Code 04: The Eldieme Necropolis
Code 05: Outer Horutoto Ruins
Code 06: Garlaige Citadel
Code 07: Maze of Shakhrami
Doctors' Notes
Doctors' Notes: Runic Results
Doctors' Notes: Two Theories on Runic Weapon Results
Please add your results using the following format:
Area - Day - Moon Phase - Item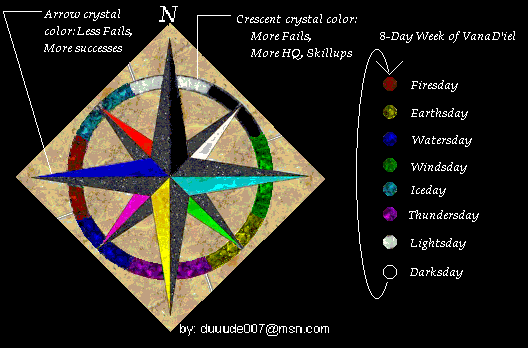 Contributing Doctors {Those who have complete results and/or contributed Doctor's Notes}: Althaia (Starleafgirl AT gmailDOTcom), Alaaba (novaphaux AT yahooDOTcom), Ace (forgottenandlost AT gmailDOTcom), pogle (pogle AT becdDOTnet), Tatsuko (voltaic AT coxDOTnet), Moxie (webbdav AT earthlinkDOTnet), thatdamnelf, Kayberry, Ortega, Predecia, Indigla, Grodark, DokasTheWolf, mousekitty, Zediv, homerjays, Arestia, ZypherX, Aldante, Shaowstrike, Bahzell, ulyssez, Sethanganthi, UberFuzzy, Epiical, Casanndra, Cecyl, Desirai, kingofzeal, Ohemgee, gorokai, Wanderingweeble, Kaarek, Willriker, Courtney, LordMao, Boswen, Vaius, Ariehn, Haldarn